Healdsburg, nestled in the heart of California's Wine County, is a hidden gem that has quickly become a sought-after destination for weddings. With its picturesque vineyards, charming downtown, and upscale amenities, this enchanting town offers everything you need to create an unforgettable wedding weekend. Healdsburg makes a great destination for weddings, from stunning venues, delightful dining options, a bounty of indulgent wineries for post-wedding celebrations, stylish accommodations for guests, and unique activities that will make your wedding weekend truly extraordinary.
1. Stunning Venues for Saying "I Do"
Healdsburg boasts an array of chic, whimsical, rustic and elegant wedding venues, each offering its own unique ambiance and charm. From intimate garden settings adorned with vibrant blooms to spacious winery estates exuding a sense of refined luxury, you'll find the perfect backdrop that resonates with your vision for an unforgettable wedding day.
Duchamp, a true gem nestled within the Russian River Valley, presents an idyllic blend of rustic elegance that perfectly embodies the charm of Healdsburg. Surrounded by sprawling vineyards and majestic redwoods, this venue offers a breathtaking setting for couples seeking an intimate yet refined wedding. The modern tasting room and expansive outdoor terrace provide an exquisite backdrop for ceremonies and receptions alike. With its commitment to sustainability and exceptional wines, Duchamp promises a wedding experience that combines natural beauty with sophisticated indulgence.
Set in the Russian River Valley, Copain Wines offers a rustic yet elegant wedding venue. Surrounded by vineyards and redwoods, this picturesque estate provides a chic setting with a modern tasting room and panoramic outdoor terrace. Enjoy sustainable wines and breathtaking views.
Discover the allure of the Robert Young Estate Winery, a haven of timeless beauty situated within the picturesque Healdsburg landscape. With its historic legacy and sprawling vineyards, this estate presents a backdrop that echoes the elegance of the region. Exchange your vows under ancient oak trees or dance the night away in the estate's meticulously restored barn. The harmonious blend of historic charm and natural splendor makes Robert Young Estate Winery a destination that promises to elevate your wedding day to an unforgettable level of sophistication and grace.
Experience wine country charm at Capo Creek Ranch in Healdsburg. With its sprawling vineyards, lush gardens, and historic barn, this private estate offers a romantic and rustic backdrop for your wedding. Exchange vows under majestic oak trees or celebrate in the restored barn.
For a unique and enchanting wedding venue, look no further than Ru Farm's in Healdsburg. Surrounded by vineyards and gardens, this estate features a restored farmhouse, cottages, and a picturesque barn. With its rustic elegance and whimsical charm, Ru Farm's offers an unforgettable experience.
2. Delightful Rehearsal Dinner Options
Healdsburg is known for its exceptional culinary scene, and there's no shortage of upscale dining options for your rehearsal dinner. Consider Barndiva, an acclaimed restaurant with a chic and rustic ambiance. With its farm-to-table cuisine and exquisite cocktails, Barndiva promises an unforgettable dining experience.
Additionally, Healdsburg offers a variety of other local restaurants that can cater to your rehearsal dinner, such as Matheson, SingleThread, and Bravas Bar de Tapas. These establishments showcase the region's freshest ingredients, innovative flavors, and impeccable service, ensuring a memorable evening before the big day.
3. Post-Wedding Bliss: Brunch at Wineries
Extend the celebration with a delightful post-wedding brunch at one of Healdsburg's renowned wineries. Experience the magic of wine country mornings at these vineyards where you can enjoy a leisurely meal surrounded by the beauty of rolling vineyards and the company of your loved ones. Don't forget to inquire about personalized wine tastings and guided tours that some of these wineries offer, adding an extra layer of enjoyment to your memorable celebration.
Ferrari-Carano Vineyards and Winery
Nestled in the rolling hills of Dry Creek Valley, Ferrari-Carano Vineyards and Winery is a picturesque winery that offers breathtaking views and an elegant setting for a brunch celebration. Your guests can savor award-winning wines while indulging in a delectable brunch spread amidst the vineyards.
Van Z Vineyards
Elevate your unforgettable wedding weekend with a post-wedding brunch at Van Z. Embodying Healdsburg's allure, this cherished spot offers a serene escape amidst nature's splendor. With a cozy atmosphere, it's the ideal setting to unwind and continue celebrating in style. Indulge in culinary delights, savor wine country views, and bask in Van Z's intimate ambiance, enhancing your post-wedding experience.
4. Luxurious Accommodations for Guests
Healdsburg offers a range of luxurious accommodations to ensure that your guests have a comfortable and memorable stay. From boutique winery estates offering panoramic views of the surrounding landscapes to quaint bed and breakfasts nestled in the heart of the town's historic district, there's a perfect lodging choice to cater to every preference and create an unforgettable experience.
Hotel Les Mars is a boutique hotel that exudes European elegance, featuring luxurious rooms, a charming courtyard, and personalized service. Its central location in downtown Healdsburg ensures easy access to the town's attractions and amenities.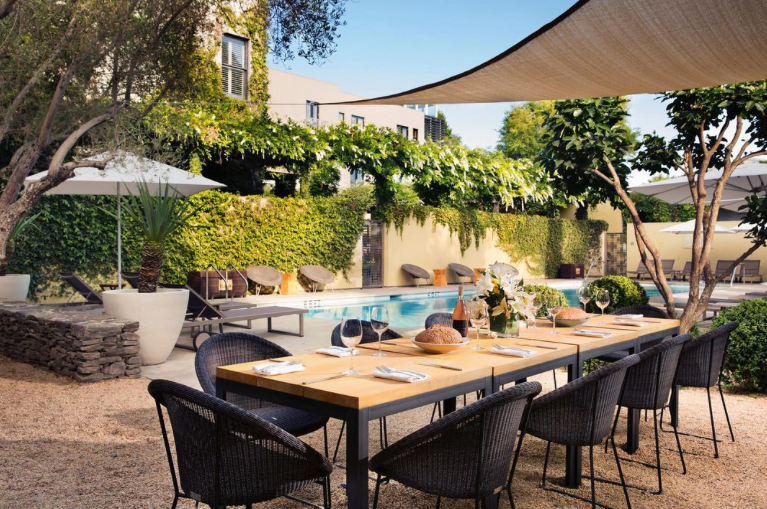 A contemporary and sophisticated hotel, Hotel Healdsburg offers spacious rooms, a serene spa, and an inviting pool area. Guests can unwind and indulge in the hotel's world-class amenities while being just steps away from Healdsburg's vibrant downtown area.
5. Unique Activities in Healdsburg
While in Healdsburg, your wedding guests can enjoy a range of unique activities exclusive to this charming town. From leisurely bike tours through picturesque vineyards to indulging in farm-to-table culinary experiences at renowned local eateries, there's something delightful for every guest to immerse themselves in the essence of this enchanting destination.
Wine Tasting Tours: Encourage your guests to explore the region's renowned wineries through guided wine-tasting tours. They can experience the flavors of Healdsburg, learn about the winemaking process, and indulge in the finest vintages.
Cycling through Vineyards: Healdsburg's scenic countryside is perfect for cycling enthusiasts. Guests can rent bicycles and embark on a leisurely ride through the vineyards, soaking in the stunning views and the region's natural beauty.
Hot Air Balloon Rides: For an unforgettable experience, recommend hot air balloon rides over the rolling hills of wine country. This unique adventure offers breathtaking views and a truly magical perspective of the picturesque landscape.
Start Planning Your Dream Wine-County Wedding
Healdsburg truly shines as a chic and upscale wedding destination, offering breathtaking venues, delightful dining options, indulgent wineries, luxurious accommodations, and unique activities that will make your wedding weekend unforgettable. From exchanging vows surrounded by vineyards to savoring exquisite farm-to-table cuisine, Healdsburg provides the perfect blend of sophistication and charm for couples seeking an extraordinary wedding experience. Come and discover the magic of Healdsburg, where your dream wedding becomes a reality. Start planning your dream wine-country wedding now!