A wonderful ride through North Sonoma County wine country. A choice of 19.3, 38.5, 64.2 and 102.5 mile rides. Routes subject to change.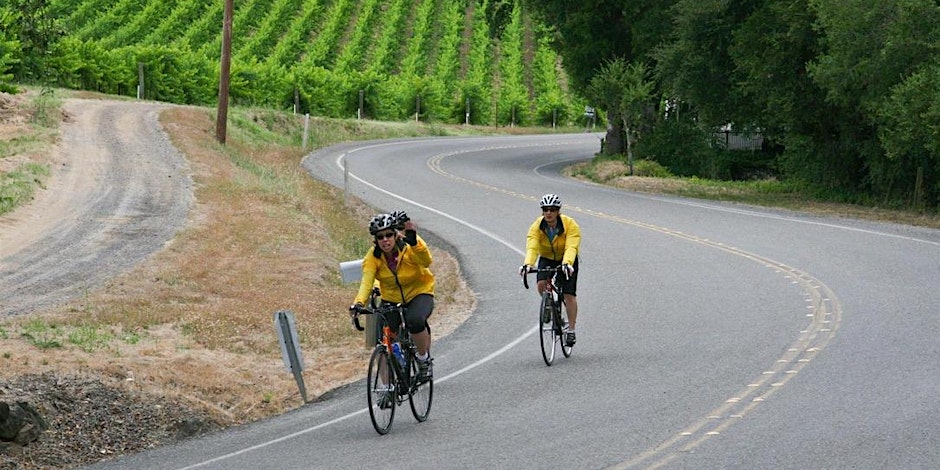 The Rotary Club of Healdsburg Sunrise holds events that encourage physical activity, supports organizations addressing food insecurity and homelessness, leads vital projects to protect and improve our environment and awards youth scholarships. Come ride with us!
Packet pick-up will be at the following locations:
Spoke Folk Cyclery, 201 Center St. Healdsburg, on Friday July 21st 4:00 p.m. to 6:00 p.m.
Packets will also be available at 6:30 a.m. on the day of the ride.
Using Ride with GPS , you will tour through the vineyards, valleys and vales. Take your time or race your friends. Enjoy some of the most beautiful country in the world with a Mediterranean climate, home to world class wines, Michelin rated restaurants, and all for a good cause. The rides are as follows:
19.3 miles – Blue Route– Classic Ride Through Alexander Valley
38.5 miles – Green Route – Through Chalk Hill Road and Russian River Valley
64.2 miles – Yellow Route – Chalk Hill Road, Russian River Valley, Dry Creek Valley and Alexander Valley
102.5 miles Red Route– Chalk Hill, Russian River & Dry Creek Valleys, 10 dead head up Rockpile, Cloverdale to Alexander Valle
The Healdsburg Community Center at 1557 Healdsburg Avenue will be the starting point for the ride and we will gather there for after-ride activities.
Aid stations will be at the following locations:
Information to follow.
All riders will enjoy a delicious lunch catered by a local Chef.
Valet bicycle parking will be provided in partnership with the Sonoma County Bicycle Coalition so that you may enjoy the lunch and not worry about getting back to your vehicle.
Please see the event website for additional information. https://girovignetihealdsburg.org/
Cycle California Magazine listed Sonoma County as one of "The 7 Greatest Rides on Earth" — alongside the likes of Tuscany, Crested Butte, and Moab.
Add to Calendar
Book Now